– Elijah is 44 months! –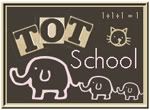 What a start to a new year! We have our own school/play room! A mural on the wall with I love! Another one on the way.
It has been a bit tough to get in to school mode for all of us though so it was not that busy. I am enjoying only some of the P4/5 books. The DEL books are too advanced for my boy so I think i will be taking it much slower with them. Going to use HWT Prek workbook instead for a while. Got two new Kumon books which i hope Elijah will like.
So onto a week in pictures:
Fun with Tins! Music, monkey business, rock n roll and building High…
Catching up with Open Ended Art, Simple Simon stART
The music man…We did our auditory DEL worksheet where Elijah had to listen to the sounds i made: same or different. My boy didn't know same from different unless he is looking at it! But all in the name of fun…so I let him make the sounds and ask the questions! He stole the playdough after I made it – it was still warm. Sorting the colour blue…6 different shades with a tweezer.
My little computer genius. He got this Vtech "computer" from his grandparents for Christmas and I select the game and he plays and experiments. I love the idea. It has mouse control, great number games and tackle some concepts that I have been struggling to get across.
We did lots of reading this week, some worksheets, introducing phonics (using Jolly phonics),
Get some inspitation from 1+1+1=1
God's blessings