Elijah is 41.5 months old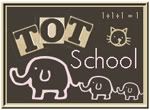 Busy, busy, busy! Sorry for the late post but here it is.
Monday:
I collected some paint chips, glued on some pegs but Elijah decided they looked like train tracks. He did try the pegs but not really successful. I made a fish stamp that i got off No time for flash cards. Such a great site! After it all Elijah decided it was time for a break…
Tuesday:
Besides a swimming lesson, I tried creating the bottle name game from Carisa's site. Elijah seemed interested.  We started on our box for our Aquarium. We also built a tent and I tried to get Elijah to count using dominoes. He built a road for his cars instead! It's ok, Another day, Another adventure.
Wednesday:
Finished up the Aquarium, and then I just collected a medicine dropper, a syringe, a measuring cup, a jug! Elijah had fun tranfering water and then watering the plants. We had playball in the afternoon.
Thusday:
We did our Open Ended Project. I blogged obout here:
After watching a National Geographic DVD, Elijah was obsessed by the Zebra's so I printed an outline and Elijah drew in the lines of a Zebra.  He mixed yellow and blue paint ot make green and then painted a leaf for our bible story. We also painted "ants" – three painted dots made by Elijah's little fingers and he added some legs and antennae.
Friday:
Elijah chose the big foam numbers and then smaller numbers from a puzzle which he matched up. Totally on his own and in no way initiated by mom!  I love these moments
We played with the"Where am I" game – behind, in front etc… We also played with the pegboard but Elijah did not want any structure included at all…so they were all over the place.
We got around to playing with the shakers and bells etc… which were fun because Elijah insisted Jessica participate…here she is 15 weeks
Thanks for reading and head over to 1+1+1=1 for some brilliant ideas