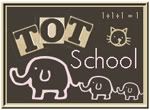 Jessica is 18 months old!
I have just realised that this is the first Totschool post in almost 2 months and  the first for 2011! Although posts have not been going up, Totschool has been going one!
Jessica loves to try to copy most everything her Brother does! I am sure I will constantly be surprised by her knowledge and development over the next few years.
Jessica has totally been obsessed by COWS! So farm animals and a the like are her interests now days. Elijah and Jessica love to play, but what really melts my heart is when they are together and Elijah teaches her all about whatever they are playing with!
Most mornings He pulls her by the hand, so that they brush teeth together. Jessica ADORES her big Brother!
Jessica is taking note of so much around her. Her little finger will point and she babbles on about something. Such a proud Mommy!
The last few weeks in totschool have been very busy. Messy is another word I could use!
I am amazed with the gentleness with books that Jessica shows when 'reading'!
Foam floor puzzles get taken out all the time! Storage is a bit of a problem with them for now but I am sure I will come up with a solution soon enough.
Our macaroni craft. Glue, macaroni, and lots of paint!
More painting -Introducing watercolour paints!
Jumbo Peg board!
And more painting!!! Using Shake 'n Paints from Happy Hands!
My mom had given me this glass jar full of little spoons and drink mixing sticks…As Jessica no longer puts everything into her mouth (only sometimes) I thought I would give this to her.
She loved emptying the jar, filling it, attempt to replace the lid again. A very big time filler!
Every time Brother has a worksheet activity – I have to have the same one for Jessica, else Brother's activity is stolen right off the table!
Remember to have a look over at Carisa's site! Don't be shy to take part. But most of all – enjoy your children!
God Bless