I have been wanting to start something for South African bloggers called Sunday Focus.
Sunday Focus is about linking to some other great South African bloggers that will maybe make connections between SA bloggers but also introduce some great people who might not be known to many of you.
For our First SA Sunday Focus I would like to introduce you to a blogger that has become very special to me.
Trudie from Fun with little mouse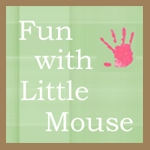 Fun with Little Mouse is a fantastic blog that always inspires me to be more than what I am.
Besides providing me with some great ideas for crafts and activities with my little Monkey's, Trudie also blogs about some really interesting and thought-provoking topics.
There has some wonderful free printables available for download in both English and Afrikaans.
Trudie also has an online shop that offers so many wonderful products. Maternity products and items that are necessary for new Mom's to prepare for those precious bundles to  quality toys and educational products. She often runs awesome specials which are well worth the look at!
Thank you Trudie for Blessing me in so many ways! You truly are a great friend. I really Thank God for connecting us out here in Blogland. Who knew friendships could be started across a few connected blog posts!!!
God Bless