Jessica is 16 months old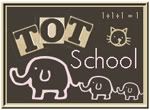 These Melissa and Doug stacking blocks are really great. Jessica really loves the colours. Definite winner for the school room!
Eating playdough…this is one of the main reasons I only use cooked playdough.
Pudding painting…well the paper got immediately discarded so really want to re-do this activity. It took a while for the kids to understand that it was about *MESSY* play
Books are truly loved and enjoyed!
After a bit of resorting the school room, I found our good old shape sorter. Elijah loved helping Jessica…When she realised that there was a lid, she preferred using the hole to put the  shapes in.
Messy play with Jelly. One of things I love about some activities is that they so many times overlap between totschool/preschool. Some are planned and some learning moments just happen! This activity developed from a stencil sheet worksheet and became such a wonderful experience.
Most of the time Jessica was more interested in putting the caps back on these dot-painters than actually painting with them.
Playing with our egg and spoons.
Don't forget to check out 1+1+1=1
God Bless