Jessica is 16 months old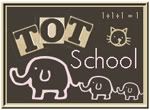 I am always amazed at the development at this age. I love that Jessica has the benefit of an older sibling. She is exposed to so much more. She is a very happy child, content for the most part with everything around her. I smile at the personality that is showing through. The tantrums are still at the cute stage. Her hand goes to cover the face and she peeks through to see if anything is happening the way she wants it to. Elijah and Jessica play quite rough sometimes, She is a tough one for sure!
One of her favourite activities is diving into her Nanny's (grandmother) bag. She carries it around (mostly dragging) but oh so proud of herself. Being quite a tomboy myself I love most of the girlie type things that are coming through.
Here was the week:
I have to admit that I did not plan this activity at all. Elijah gave it to his sister to do (Big grinning mommy here). Filling up a cooldrink bottle with small pompoms. She loved trying to put the lid on too
Our sound puzzles are still a firm favourite around here!
Jessica has been quite a buzzy bee when it comes to drawing, pulling crayons out of boxes and this little lady LOVES packing away (only when she thinks it is necessary though).
Hopefully I will be able to take more photos next week
God Bless