Jessica is 11 Months old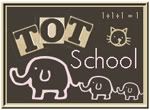 Sorry for the late post. Here are the few things we did.
A basket of textures. Things seemed to go well.
Jessica discarded her basket and came over to steal the glue stick that Elijah needed  for his craft. Here he is trying to entice her to leave it and use something from her basket. It didn't work so well.
Jessica took one of the crafts her brother had just completed and also wanted to colour it.
I gave her little tubs we were stacking up, but she decided to bang them together on the  chair which was good and noisy.
I realised early in the week, we have never done any puzzles. I have these animal/sound ones which are really captivating.
Have a look over at 1+1+1=1
God Bless